Favourite Albums - 2011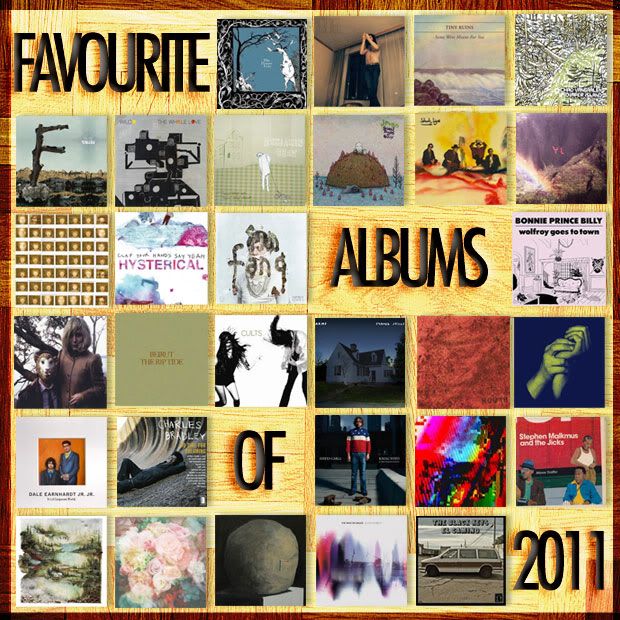 (click here to listen to my 'Favourite Albums of 2011' mix tape on 8tracks)
First thing first, there was way too much music released this year. Not that this is a problem that needs to be fixed. It's just a pill that one needs to swallow as they put together their own list, while taking little peaks at others. 
I tried my best to keep up this year. But try as I might, there was just too much music being dropped into the ether. At times, I found myself feeling like a salmon swimming up stream to lay my eggs (the stream representing the unrelenting flow of new music, the salmon eggs representing a failed attempt at an analogy that made any sense). As overwhelming a task as it was throughout the year, it was when everyone started posting their end of year lists that the true extent of how many albums I had not only just casually skimmed, but how many albums I had not even known were available for skimming began to really sink in.
That being said, I did manage to get lost in quite a few. Last year I did a list of 20, but as I started narrowing down albums for this 11th year of 2000, it became clear that 20 would not be enough. I was going to need a bigger boat. And I then I would have to turn that boat into a mix tape.

A few things about my list. I decided to scrap the idea of ranking this year. I started off by ordering them from 1 to 30, but I soon remembered that when making a mix tape, the order that is the most important is the order that benefits the flow of the mix tape and not the ranking from either last to first (start your mix tapes strong!) or first to last (anti-climatic). Besides, after reading so many end of year lists, I started to feel like ranking albums is a bit over dramatic and maybe a touch self important. And really, what is the difference between someones number 11 album and their number 15? Or at the very least, it is an unnecessary stress to put on yourself, especially when you know that no one is waiting on baited breath for your 'top 5' to be revealed. 
That being said, J Mascis' 'Several Shades of Why' is my gun-to-the-head favourite album of 2011. The rest? Well, they are all brilliant as well, and I've enjoyed each and every one of them quite a lot. 
Below are the 30 albums that make up my favourites of the year, shown in the order that they appear on the mix tape. I've written a wee blurb on each and left you with some links so you can check the albums and artists out further. So if you still haven't popped the 8tracks mix tape open in another tab and pressed play, why not do that right now? I promise you that it is a good listen and you can listen to it while you read the rest. Or you can skip the reading and just listen to it.

The Poison Tree by The Poison Tree | I almost missed out on this record. Which would have been a shame, seeing as how quickly it has impacted my thought process for my favourite albums of the year. There is something deceptively sexy about the whole thing. Kind of like how Leonard Cohen is sexy, even though he isn't. And what better way to walk around town, then with music on your headphones that makes you feel deceptively sexy? ( Facebook | Spotify | iTunes )

No Witch by The Cave Singers | I'm still not sure if I enjoyed this album more than 2009s 'Welcome Joy'. The more I listen to it, the more I think I do. It is grittier and harder and darker. Like the cover art might be suggesting, it is a good album to put on at a small motel room party of one, get drunk and / or stoned, take your shirt off and start clapping. ( Website | Facebook | Twitter | Spotify | iTunes | Amazon )

No Time For Dreaming by Charles Bradley | Anybody who is a James Brown fan will love this album (and anyone who isn't a James Brown fan can not be trusted). I always find it a bit discomforting (discomforting in a good way) when a person can express so much emotion and soul some with their voice. It's such a powerful thing, and it can make you feel a bit weak. This album is kind of like a lion roaring directly in the face of a lamb. The lion being Charles Bradley, the lamb being me. ( Website | Facebook | Twitter | Spotify | iTunes | Amazon )

KMAG YOYO by Hayes Carll | I grew up in a small farming town in Alberta, Canada (which some people say is the Texas of Canada). To say that a lot of people around me listened to country music would be an understatement. But they did not listen to this kind of country music. They listened to the Tim McGraw / Faith Hill brand of country music. Which made me despise a lot of them. If they were blasting the Hayes Carll brand of country music, we would have got on like honkey kong. ( Website | Facebook | Twitter | Spotify | iTunes | Amazon )

CoCo Beware by Caveman | Another album that I almost missed out on. This makes it on my list with what Flamgirlant might call 'an intense flirtation, rather than love'. But I can't help it. After seeing it on We Listen For You's end of year list, I checked it out and fell hard with everything on it. And seeing as this list is not a ranking, and I've been listening to this album a lot while compiling this list, CoCo Beware finds its way on it. Also, remember Koko B. Ware? ( Website | Facebook | Twitter | Spotify | iTunes | Amazon )

Mirror Traffic by Stephen Malkmus and the Jicks | 2011 could be considered the year that I finally got into Pavement. Spending hundreds of hours in a van with Benjamin Shaw and A Singer of Songs (it might not have actually been hundreds, but driving from Barcelona to Paris sure feels like it), who are both huge Pavement heads, meant I got my fair share of Malkmus education. Which not only laid the path for me to check this album out, but it also laid the foundation for my enjoying of it. Which I did. Great lyrics, great riffs and unexpected song structure? Yes please. ( Website | Facebook | Twitter | Spotify | iTunes | Amazon )

Bon Iver by Bon Iver | I've been in and out with this album. I've always liked it, but sometimes I found myself wishing it sounded more like 'For Emma' and less like 'In The Woods'. But then a song like 'Holocene' comes on and I'm back in. I think there are 3 camps with this album: those who absolutely love it and think it is a masterpiece, those who hate it, and those who think it is pretty good, but were not as blown away by it as they were with the debut. I'm in the latter camp. ( Website | Facebook | Twitter | Soundcloud | Spotify | iTunes | Amazon )
Idle Labor by Craft Spells | At first, this album threw me for a loop. It sounded nothing like I expected. But that was because I read the name as Cast Spells instead of Craft Spells. So once I realized that I wasn't listening to the same band that was responsible for 'Letters', I was able to take the album for what it was. A brilliant 80s party that I was glad to be attending, especially because I was too young to party in the 80s. ( Website | Facebook | Twitter | Soundcloud | Spotify | iTunes | Amazon )
An Empty Bliss Beyond This World by The Caretaker | If there ever was an album perfect for sitting in a dark room, with a glass of scotch and a cigarette, pretending to be a 1930s private detective on the case of a mysterious murder, while thinking things like "she was a tall glass of water, but I wasn't thirsty", this is that album. Or maybe I've been watching too much Bored To Death. ( Bandcamp | Amazon )

Slave Ambient by The War On Drugs | The War On Drugs was a new discovery for me this year. I think I had heard of them before, but it is possible that I am just thinking of the more literal 'the war on drugs' (of whom I am not a fan). I think this album is going to keep growing on me more and more, as I listen to it more and more in the upcoming year(s). ( Website | Facebook | Twitter | Spotify | iTunes | Amazon )
El Camino by The Black Keys | I don't think The Black Keys will ever make an album that I don't like, because they make the kind of music that I will always like. As long as there is still a touch of their 'Thickfreakness' days in each new album, I will always have a spot in my headphones for them. Although, as much as I wish it wasn't true, I think them blowing up has impacted my love for them. I don't want to be that guy, but I think we might all have a little bit of that guy in us. You know that 'yeah their new stuff is good, but…'. I hate that guy. FML. ( Website | Facebook | Twitter | Soundcloud | Spotify | iTunes | Amazon )
So, those were my favourites of 2011… what were yours?